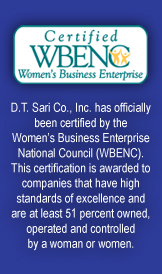 D.T. Sari Co., Inc. prides itself on the ability to provide excellent service and competitive pricing. We stand behind the accuracy and quality of our work.
What's New!
Our Name! We are now D.T. Sari Co., Inc. dba DT Metal Services.
Our Certifications! We have many as a certified DBE/WBE – our newest covers the Utility Companies. See "Certifications" for specific details.